---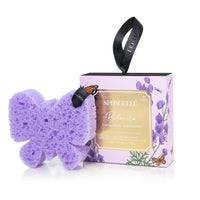 Spongellé's Botanica collection celebrates the metamorphosis of nature's pharmacopeia. Created with scents inspired by Mother Earth's beauty, these butterfly buffers host built-in body wash infused with skin-nourishing herbal extracts. Our popular lavender makes a dazzling return with herbal extracts of rosehip, hibiscus, and green tea to surprise and delight. Soothing and aromatic, you'll look forward to shower time any day of the week.
Smells Like 
A nourishing bath in the fields of Provence, where lavender fields loom wild
Feels LikeAn oasis of calm & botanical bliss

Fragrance Notes
Top: Rosemary, Cardamom
Middle: Spearmint, Lavender
Base: Musk
How To Use: 
Nestle into an unforgettably refreshing cleansing experience with our Botanica Body Buffer collection. Unleash Spongellé's creamy fragrance by placing your body wash-infused buffer under running water to reveal an airy, cloud-like hybrid of exfoliating massage and silky aromatic cleansing. Botanical science and patented technology ensures a minimum of 18+ washes.
Rinse and squeeze out excess water after each use. Sponge can be re-purposed after complete use.
Benefits:
Built-In Body Wash + Buffer
Multi-Function, Multi-Use, 18+ Uses
All-in-One Beauty Treatment
Extracts of Rosehip, Hibiscus, & Green Tea
Time-Released Lather
Relieves dryness and locks in moisture
Free of sulfates, parabens, and synthetic fragrances
Bacteria-Resistant Cleansing
Dermatologist Tested
Vegan Friendly, Cruelty-Free
Proprietary Infusion Technology
Chic hanging ribbon design
Portably designed for travel
Key Ingredients:
Non-toxic.
Paraben-Free, Cruelty-Free, and Vegan-Friendly.
Made with rose hip, hibiscus, green tea extracts
Made in the Los Angeles.