---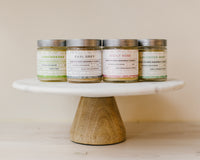 MADE IN MISSOULA!

 Hand Poured Natural Beeswax Candle | Natures Air Purifier  
All natural, non-toxic, non-polluting, non-allergenic

Burns with no smoke and cleans the air

Perfect, renewable resource

GMO Free | Chemical Free

24 hour burn time

All natural cotton braid wick

Made in USA | Made in Montana

Hand poured into a 4 ounce glass jar 

 
Beeswax Candles Are More Expensive – For Good Reason! 
Beeswax is very different than other waxes - all natural, non-toxic, non-polluting, non-allergenic, and with a delicious honey-sweet aroma.  A perfect, renewable resource, beeswax is made by the female worker bee for construction of the honeycomb, which safely contains their honey. To produce one pound of beeswax, the worker bees eat about ten pounds of honey, fly 150,000 miles, and visit 33 million blossoms! The sugar converted by the bee's wax glands is then secreted through tiny pores in the bee's body as wax droplets, which harden into wax when exposed to air. The wax looks like small, transparent scales on the bees' abdomen. After being chewed and processed by the bees, the wax scales turn into white color and become soft and pliable enough to be used as a construction material for the bees' comb. As high temperature would soften the beeswax too much and low temperature would render the beeswax too hard, the honeybees have to use their body heat to regulate the ambient temperature of the hive and maintain it such that it is most ideal temperature for managing the beeswax - about 95 degrees Fahrenheit (35 degrees Celsius). Beeswax is precious stuff and more expensive than most waxes, for good reason. 
Our beeswax candles burn with almost no smoke and clean the air by releasing negative ions into the air. These negative ions can bind with toxins and help remove them from the air. Our candles maybe helpful for those with asthma or allergies and they are effective at removing common allergens like dust and dander from the air. Beeswax candles burn more slowly than paraffin and soy candles so they last much longer.   
Directions 
Trim wick to ¼" before burning. Do not burn more than 3 hours at a time. Straighten the wick after it has been extinguished and keep it centered. Discontinue use when ¼" of wax is lit. Neither seller nor manufacture is responsible for misuse. WARNING: To prevent fire and serious injury, burn candle within sight. Keep out of reach of children and pets. Never burn on or near anything that can catch fire. Never touch or move a candle when the wax is liquid. Be sure candle is placed on a stable, heat-resistant surface. 
Support Local | Support Family Farms | Grown & Produced in U.S.A
Honey & Wax Sourced Locally in Montana